Property Pick of the Week - Warehouse for Sale - Houston, TX
Last Updated Aug. 12, 2019
See Our List of Metro Home Pages and Select/View Yours
No longer available.
11001 Wallisville Road, Houston, Texas - 17,700 SF on 2+ acres: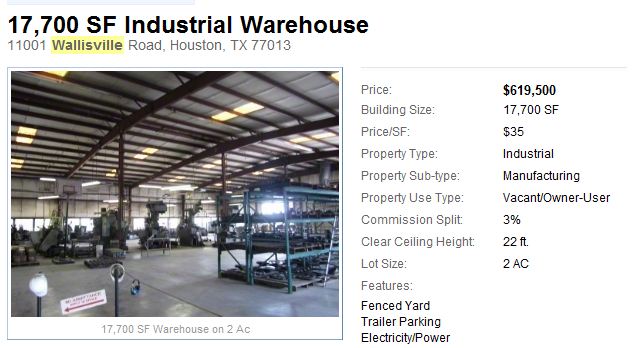 Click here for more information.
Our pick of the week is 11001 Wallisville Road. At $619,000 this industrial office/warehouse is offered for sale and is priced below market. The property is 17,700 SF on 2.34 acres and has approximately 1,500 SF of office. The land is laid out well for outside storage and minimal area is wasted. This building is one of the cleanest we have seen, especially given that it is a machining operation.
For more information on this property contact Anne Vickery at KW Commercial (713) 907-9680.