Your Essential Guide to Cold Storage Warehouses: Key Factors You Need to Know
Last Updated April 11, 2023
See Our List of Metro Home Pages and Select/View Yours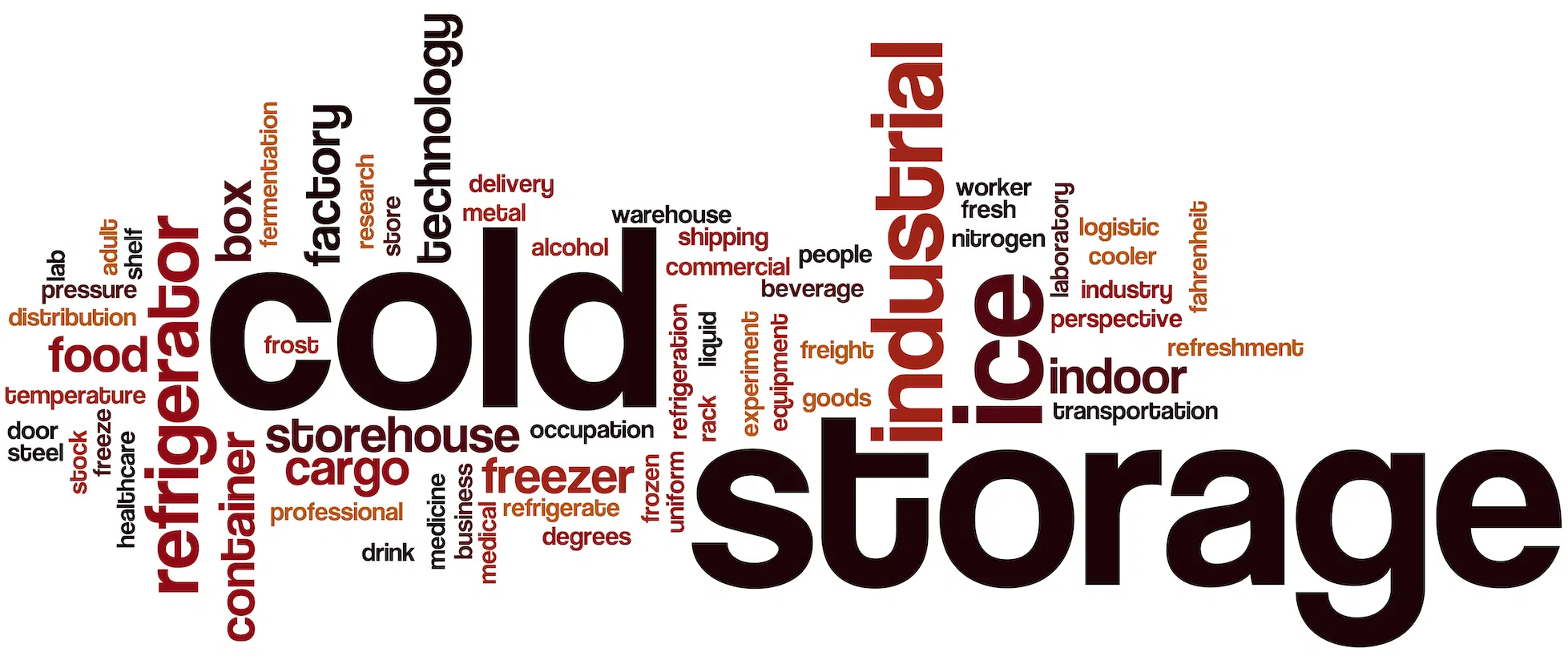 Owning and operating a cold storage-equipped warehouse is generally complex and relatively expensive. We've generated a lot of content and done a lot of work with clients acquiring cooler and freezer-equipped space. This article is our first attempt at a dedicated BLOG post covering the considerations of - as indicated above - owning and operating a cold storage-equipped warehouse.
Article Outline
Introduction
In our rapidly evolving and interconnected global landscape, maintaining the quality and shelf life of perishable goods is more critical than ever. Cold storage warehouses are indispensable components of the supply chain, enabling businesses to securely store and transport temperature-sensitive items such as food, pharmaceuticals, chemicals, plants, and even less common items like documents and artwork. As demand for refrigerated facilities continues to rise, it is vital for companies planning to invest in or use these specialized warehouses to comprehend the factors that can drive the success or failure of their cold storage operations.
This comprehensive guide aims to explore the most important aspects to consider when selecting and managing a cold storage warehouse. From identifying the ideal location and incorporating cutting-edge temperature control systems to optimizing storage capacity and guaranteeing regulatory compliance, we strive to cover all the essential information required for making well-informed decisions and maximizing your cold storage operations.
Whether you are a business owner in search of the perfect cold storage solution or a commercial real estate professional seeking to broaden your expertise, this article will offer valuable insights to help you successfully navigate the intricate realm of cold storage warehousing. Continue reading to learn about the key components that can drive your cold storage operations' success and how Warehouse Finder can support you in finding the ultimate facility tailored to your specific needs.
Key Considerations
Before diving into the world of cold storage warehousing, it is crucial to familiarize yourself with the key considerations that can significantly impact the efficiency and effectiveness of your operations. By understanding these factors, you can make informed decisions and tailor your cold storage facility to best suit your specific needs. In this section, we will explore the most important aspects of cold storage, including location, temperature zones and control, storage capacity and layout, energy efficiency, security and safety, and regulatory compliance.
Location
Choosing the right location for your cold storage warehouse is essential for ensuring smooth and cost-effective operations. A strategic location can improve overall supply chain efficiency by reducing transit times and otherwise reducing the impact transportation will exert over your business. When selecting a location, consider factors such as proximity to major transportation hubs, customers, and suppliers. Additionally, evaluate local infrastructure, labor availability, and utility costs, as these can also impact your warehouse operations.
Temperature Zones and Control
Different products require specific temperature ranges to maintain their quality and integrity. Therefore, it is essential to have clearly defined temperature zones within your cold storage warehouse. These zones may include areas for frozen, chilled, and ambient storage, as well as specialized areas for products like pharmaceuticals or chemicals. Advanced temperature control systems, such as variable frequency drives (VFDs) and direct digital control (DDC) systems, can help maintain the desired temperature and humidity levels within each zone, ensuring product safety and reducing the risk of spoilage.
This issue of zones and control also impacts a thing we call divisibility and is a particular issue when it comes to leasing out a portion of cold storage space. If, as outlined in the case study below, you need multiple temperature zones, those zones will need to be physically separated from other areas in an existing cold storage area, and provided with separate controls and duct work, if not refrigeration. If you can live with temperatures and control that already exist, then you might be okay, although you'll likely still want to subdivide, which can create problems with temperature control that must be addressed.
Storage Capacity and Layout
Maximizing storage capacity and optimizing the layout of your cold storage warehouse is crucial for efficient operations. Consider factors such as vertical storage solutions, aisle width, and the type of racking systems used. Also, take into account the warehouse's accessibility and the ease of movement for employees and equipment. Efficient space utilization can lead to better inventory management, reduced labor costs, and minimized product damage.
Energy Efficiency
Cold storage warehouses consume significant amounts of energy, making energy efficiency a top priority. Incorporating energy-efficient technologies and design practices can help lower operational costs and reduce environmental impact. Consider implementing energy-efficient refrigeration systems, such as ammonia-based systems or CO2 transcritical systems, which can offer better performance and lower global warming potential. Additionally, invest in proper insulation, LED lighting, and smart energy management systems to further optimize energy consumption.
Security and Safety
Safeguarding your stored products and ensuring the well-being of your employees is paramount in cold storage operations. Implement strict security measures, such as access control systems, surveillance cameras, and alarm systems, to protect your inventory from theft or damage. Furthermore, adhere to safety regulations and provide necessary training to warehouse staff to prevent accidents and maintain a safe working environment.
Regulatory Compliance
Following regulations and industry standards are essential for cold storage operations. Ensure that your warehouse meets requirements set by organizations such as the Food and Drug Administration (FDA), the United States Department of Agriculture (USDA), and other relevant agencies. Regularly conduct audits and inspections to maintain compliance and mitigate risks associated with non-compliance, such as fines, penalties, or even facility closures.
Key Considerations Summary
By understanding and addressing these key considerations, you will be better equipped to acquire and/or create a cold storage warehouse that meets your unique needs and ensures the success of your operations. With Warehouse Finder's expertise and vast network of available properties, we can help you find the perfect cold storage solution tailored to your specific requirements.
Leveraging Third-Party Logistics (
3PL

) Providers for Cold Storage

For businesses that may not have the resources or expertise to invest in and manage their own cold storage facilities, partnering with third-party logistics (3PL) providers specializing in cold storage can be a cost-effective and flexible solution. These providers have the necessary infrastructure, technology, and knowledge to handle the unique challenges associated with cold storage operations. In this section, we overview the benefits of utilizing 3PL cold storage services and how to select the right provider for your business needs.
Cost Savings
Investing in a dedicated cold storage facility is generally more expensive than expected for small and medium-sized businesses. By partnering with a 3PL provider, you can save on capital expenses, such as land acquisition, construction, equipment, and maintenance costs. Additionally, 3PLs can offer economies of scale, as they typically serve multiple clients and can distribute operational costs more efficiently.
Flexibility and Scalability
3PL cold storage providers allow businesses to adapt to changing market demands and fluctuating inventory levels. They offer flexible storage solutions that can be scaled up or down based on your specific requirements. This enables you to manage seasonal peaks or accommodate sudden growth without the need for long-term commitments or significant capital investments. Without proper planning and communication, even your 3PL provider can be caught without capacity, or even with more capacity than they need (which will translate into higher costs for their customers).
Expertise and Compliance
Cold storage 3PL providers possess extensive industry knowledge and experience, ensuring that your products are stored and handled in compliance with regulatory requirements. They are well-versed in best practices for temperature control, safety, and hygiene, reducing the risk of product damage or spoilage. Moreover, they stay up-to-date with the latest regulations and industry trends, allowing you to focus on your core business functions.
Value-Added Services
In addition to providing storage solutions, many 3PL providers also offer a range of value-added services, such as transportation, inventory management, order fulfillment, and product labeling. By utilizing a single provider for multiple supply chain services, you can streamline your operations, improve efficiency, and reduce overall costs.
Choosing the Right
3PL

Provider

When selecting a cold storage 3PL partner, consider factors such as their experience in handling products similar to yours, the range of services offered, their location and accessibility, and the technology and systems they have in place for temperature control and inventory management. Request references from existing clients and conduct site visits to ensure that the provider meets your specific needs and quality standards.
3PL

Summary

By working with a reputable and experienced 3PL cold storage provider, businesses can access advanced cold storage solutions without incurring the high costs associated with building and managing their own facilities. Warehouse Finder can help you identify and connect with reputable 3PL providers that meet your unique cold storage requirements, enabling you to focus on growing your business while ensuring the safety and quality of your temperature-sensitive products.
Case Studies
From time-to-time, we encounter situations where we need to do something for a client that is worth sharing on a broader basis. When this happens, we intend to share it here.
Retrofit 7400
SF

Refrigerated Process Facility

On 5Apr2021, we helped a client acquire a quote to retrofit an existing warehouse facility with a 7,400 SF refrigerated processing facility. The end result was expected to be the following breakdown of space within an existing facility that the client intended to buy for the purpose:
Desc

Area

SF

Temp
Tons

TD

Evap

Def

rost

Ht
Freezer
3500
-8
12.5
10
2

EL

20'
Meat Clr
1500
+32
6.6
10
2

EL

20'
Process Rm
1500
+34
6.5
15
2
Air
20'
Product Clr
900
+34
3
10
1
Air
20'
Scope of work: All refrigerant is 449A. Demo 3600 SF concrete, excavate for under-slab heat and 6" of 40 PSI freezer floor insulation, furnish and install #4 bar on 12" centers, furnish 7' Thermal Joint (heated) at door opening, furnish and install 5" IMP panels and 5" ceiling, pour 5" finish slab, furnish and install 4" IMP and ceilings on meat cooler, process room, and produce cooler, furnish and install (2) 4/7 man doors, (1) 3/7 man door, 5/7 double acting door into process cooler and (1) 7/9 slide door manual for freezer, furnish (2) refrigeration systems per freezer, meat cooler, process cooler and (1) refrigeration system for produce cooler, furnish all refrigerant piping, all necessary pipe insulation wrapped with white PVC jacket. Furnish thermometers in each cold room, start up and adjust, provide (1) year service warranty.
Labor, Material, Rental……….. $593,937.00
Included: Payroll taxes, insurance, rental, sealed drawings
Excluded: Any work not described, electrical, plumbing, roofing, office built-out, sales tax
Notes:
We can provide a stone hard floor with turned up cove along wall sloped to trench drain the ease in wash-down (not included with this proposal)
We can provide electrical and plumbing as a turn-key project (Not included in this proposal)
We can provide computer control to monitor and graph room temperatures and refrigeration equipment monitoring. Software loaded on owner's

PC

- Add $19.733,99
Add $12,000 for (4) year extended compressor warranty
End of quote.
This is quite useful information. Keep in mind that the information is a bit dated, and that the period between then and now was inflationary.
Conclusion
Navigating the complexities of cold storage warehousing can be a challenging task, but understanding the key considerations discussed in this article can significantly contribute to the success of your operations. From selecting the ideal location and designing temperature zones to optimizing energy efficiency and leveraging the expertise of 3PL providers, these factors play a crucial role in ensuring the safety, quality, and cost-effectiveness of your cold storage facility.
By staying informed and making strategic decisions, you can create a cold storage solution that meets your unique business requirements, ultimately leading to increased customer satisfaction and a competitive advantage in the market.
Let Us Help
At Warehouse Finder, we understand the importance of finding the perfect cold storage warehouse that aligns with your specific needs. Our teams of brokers are dedicated to helping you navigate the complexities of the cold storage industry and connecting you with the ideal warehouse solutions.
Don't let the challenges of cold storage warehousing hold your business back. Contact us today and let Warehouse Finder's expertise guide you in securing the best cold storage facility to meet your requirements. Together, we can ensure the success of your cold storage operations and drive your business forward.
To obtain our assistance, you can use our Chat Widget to the bottom right of your screen to talk to us directly, call us using the number at the top right, or click on the Free Property Search button at the top right. If you want to see what we've seen in your area, you can click on your Metro in the tag cloud below, and click on the Surveys button. There you will find links to Cold Storage Warehouse for Sale, Lease or Rent articles that contain a summary of properties we've found in that Metro that meet that criteria. There you can request that we find more properties like any of those found there, as well as using the same methods discussed above to request our assistance.
You can also go the our Cold Storage Center of Excellence, but you should note that this is our most comprehensive information to date on Warehouse Finder.