Warehouse Divisibility - Picture with Definition
See Our List of Metro Home Pages and Select/View Yours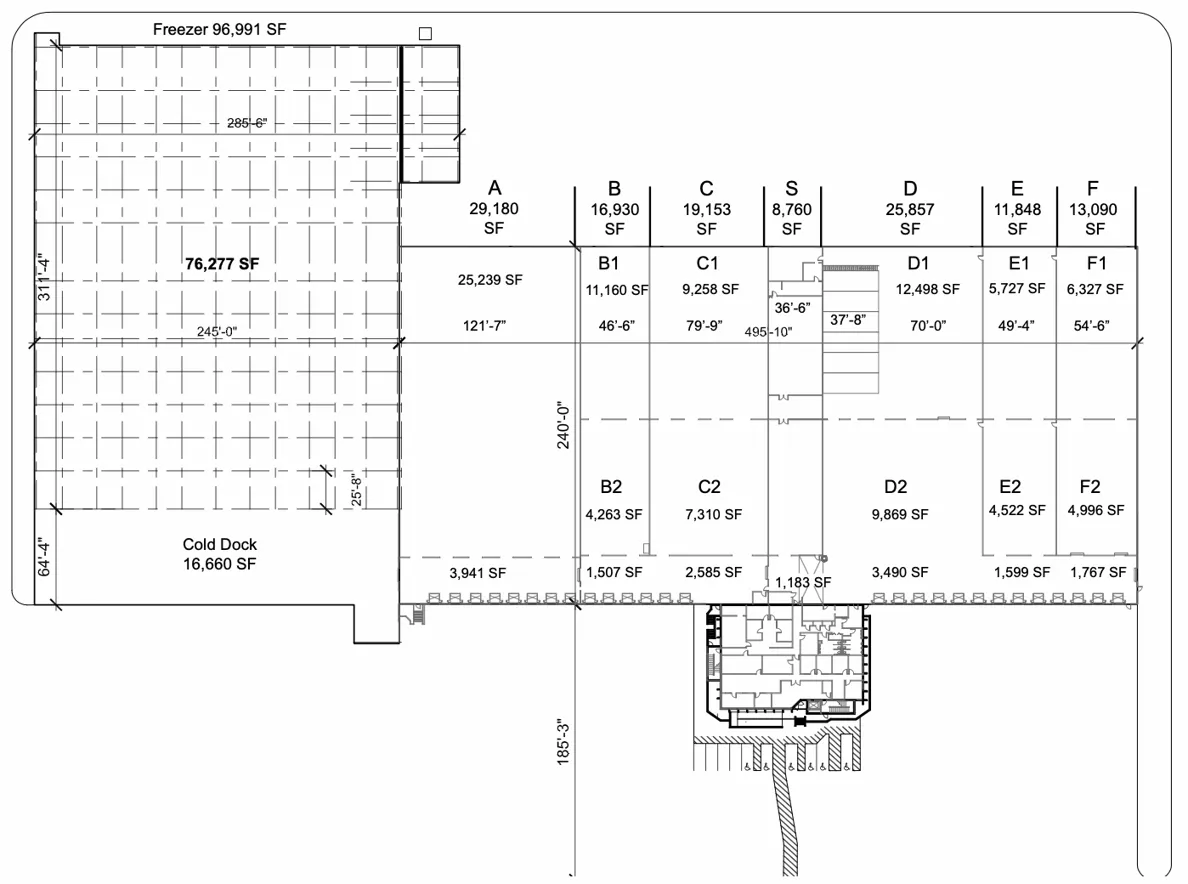 Why can't this landlord just divide up the space in this warehouse to lease exactly the amount and type of space I need? I know - it seems like a simple thing to do. And sometimes, it can be fairly simple. BUT, there are complications. This article is intended to discuss a fair subset of the issues complicating the divisibility of warehouses with various resources to share - or not to share.
Common Areas
One of the first things a landlord who wishes to subdivide must consider is the resources the property contains that could and should be shared among the tenants to maximize the value of those resources - probably in terms of rent value to the landlord. Sometimes this prioritization also benefits the tenants. Hopefully this ends up being most times, since they are the ones who ultimately pay the bills, so to speak. Some of these shared resources can be:
People entrances/exits
Docks and drive-in entries/exits
Access to sub-divided spaces and shared resources (hallways to move people, equipment, product, etc.)
If significant office space has been pre-built, then hallways for access between subdivided office areas and subdivided warehouse areas
Restrooms
Break Areas
Storage for common/shared equipment (fork lifts, …)
Exercise rooms
Etc.
For more discussion of this type of space, click on common area maintenance.
Valuable Building Resources Not Easily Sub-Divided
There are a quite a few choices for this particular discussion. Some of the big ones that come to mind right away are:
Cold Storage Areas
Crane-Served Areas
Small Dock Areas
Etc.
IF one could count on people to "play nice" with each other, you might have more options. There are certain things - probably more than we'd like to admit - that simply must be subdivided into completely separate and isolated areas, for interpersonal, legal, business, or other practical reasons.
Cold Storage Areas
Ideally for everyone, you would need the amount and type of cold storage space a landlord has to lease in any given building. That way, no sub-dividing of that resource would be required. In the likely event that you need less space than is available, the space CAN BE sub-divided, but the task is likely more complicated that with many other types of space. Temperature control in any given cold storage space is likely either designed to be cooled as a single unit to a single temperature, or perhaps designed as separate areas. Subdividing a given area will likely require additional cooling units in addition the thermostats and insulated dividers, so there can be significant expense involved. If the space is large enough, then it can be worth it to everyone, but it's not a given. Chances are, the landlord would expect you to help with these additional expenses - perhaps in the form on a longer lease period or perhaps helping with or paying all of those upgrade costs.
Crane-Served Areas
Cranes are generally built to lift and move heavy objects around is a give area (of more accurately, volume). For things like bridge cranes, that area can be quite large, and the act of equipping the building for that crane quite expensive. As above, if you wish to lease a crane-equipped/-served space, and you need the crane area that the landlord has, then this is the best case. If you need less, then usually that would involve looking for another space, although it is possible to subdivide large crane volumes. Possible, but likely expensive. It would probably involve building a divider, modifying the controller for the existing unit, and adding a new bridge and crane for the separate area. Again, pretty expensive, but possible.
The landlord COULD define a crane volume as a common area amenity as well, but if you actually need a crane, the need might not, and probably isn't transitory.
Small Dock Access
If the facility being subdivided has enough docks, then the landlord would probably subdivide the docks between tenants as well. This limits things a bit, as the storage area would either need to be contiguous with the docks assigned, or hallways would have to be set aside between the storage and assigned docks. This is probably best case.
If the building does not have sufficient dock doors to serve everyone's needs, then making the docks a common/shared resource is another options. You would need to provide an access path, and a means to schedule timing of the use of the docks.
Wrap-up
There are always going to be tradeoffs in this type of thing. Since it's done all the time, landlords have clearly decided it's worth it, and it can be a good thing for all concerned.
How Can Warehouse Finder Help?
Warehouse Finder Affiliates are experienced brokerages that assist clients identifying and acquiring the right industrial properties all the time. Instead of wading through listings and unfulfilled promises of listing from other web sites, why don't you just delegate your search to us. We'll help you determine exactly what you need, find your property for you from listed, unlisted, and off-market sources and help you acquire it. The cost of our standard set of services is included in the lease/purchase price. To make contact with us, please use our chat widget to the bottom right of our Get Started page, call the number at the top right of your screen, or go to our Get Started page to send us your contact information and a summary of your requirement.