10795 Hammerly - Office Warehouse space for lease
Last Updated Aug. 19, 2019
See Our List of Metro Home Pages and Select/View Yours
Centermark Commercial Real Estate is marketing the multi-tenant flex industrial property in West Houston for lease. The flex/distribution project is located just 1/2 a block of the Sam Houston Parkway West, approximately 1 mile from I-10 and Beltway 8 interchange with great access and visibility. There is ample parking in the front of the building with upgraded landscaping and green space. Truck loading is at the back of the building with truck courts which can accomodate 53' containers.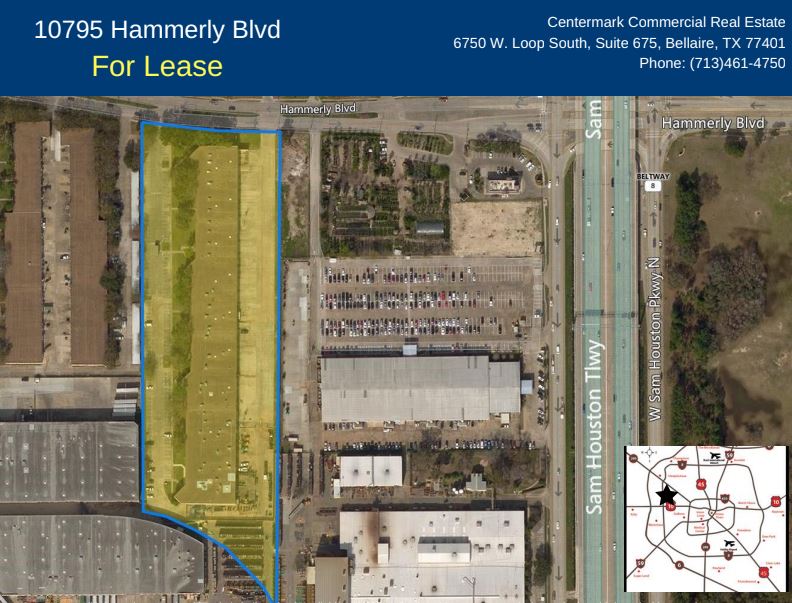 This tiltwall property has 96,206 SF total and is divided into 5 suites…300, 320, 330, 340 and 350. Suite 300 is leased and the remaining suites are available for lease. There is a month to month tenant in those suites who can be relocated on short notice. The building has 48 dock high doors and 163 parking spaces (more can be striped in the truck court). Clear Height ranges from 18' to 19'. There is approx. 1/2 acre of fenced and gated outside storage.
The owner will consider removing existing office and/or finished AC'd areas to suit the needs of a new tenant. Lease spaces can be combined as well for up to 86,000 SF.
The spaces currently available are as follows:
Suite 320: 23,435 SF total with 3,493 SF of office and 10,000 SF of open 12' clear AC'd storage/production space. 13 dock high doors. Owner will consider demo of office and warehouse to suit.
Suite 330: 15,330 SF total with 5,600 SF of office and approx. 5,000 SF of AC'd warehouse. 7 dock high doors and 1 ramp. Owner will consider demo of office and warehouse to suit.
Suite 340: 21,290 SF total with 800 SF office and the balance warehouse. AC'd portion of warehouse possible up to around 5,000 SF. 11 dock high doors.
Suite 350: 25,428 SF total with approx. 16,000 SF of Open concept office (80%). Owner will buildout or demo office to suit. 10 dock high doors and 1 ramp. Dedicated fenced and gated yard approx. 1/2 acre.
Looking for Warehouse, Office or other space in Houston or elsewhere? Needing to renew your lease?
Contact the WarehouseFinder.NET Broker Affiliate Network below.
Centermark Commercial Real Estate specializes in Industrial and Office in the Greater Houston area. CCRE is the exclusive affiliate broker for WarehouseFinder.NET in Houston, TX.