Exterior Elevated Dock - Picture with Definition
Last Updated July 30, 2020
See Our List of Metro Home Pages and Select/View Yours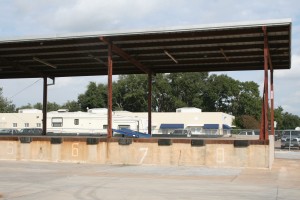 Covered Exterior Elevated Dock
This poured in place, concrete structure facilitates loading from containers at or near the 48" level without impeding warehouse access. This type of dock would be implemented for many reasons, including the need for more load/unload slots for trucks, the addition of Dock-High capability to a site, etc.
Go here to read about more important criteria for selecting warehouses for rent, lease or sale.

Are you looking for Warehouse, Office or other space in Houston or elsewhere? Do you need to renew your lease?
Contact Warehouse Finder using our Get Started link above, call us at the phone number on this page in the upper right, or chat with us using our chat widget on the page in the lower right.