Article Synopsis
Having just completed a six month search for "warehouse for sale" property for a client to purchase, I can tell you definitively that the far West Katy and Brookshire industrial market is significantly under served. We finally settled on a 17,000 SF warehouse building with 2,000 SF of office finish and sitting on 5 acres of land. Pricing is in the $1,300,000 range.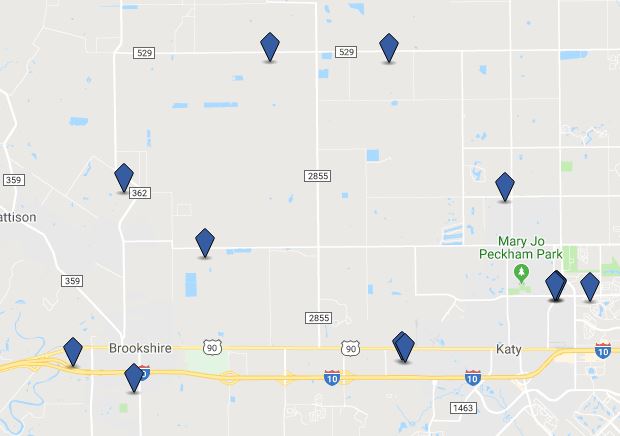 With approximately ten warehouses available to purchase in this growing market West of Houston, the task of locating an industrial building which fits a buyers needs can be quite challenging. Freestanding options to buy are typically have grade level foundations and may be metal or tilt-wall in construction. For owners needing dock high loading, dock wells can be installed to accommodate container loading and unloading.
The few "new" warehouse for sale options are priced in the $90 to $110 PSF range and generally have minimal outside storage. Several options though are located on five to 10 acres of land and a bit further North and West of Katy. Those options have improvements of older construction and typically metal buildings.
Some of the options only lasted a few days or weeks before being contracted to sell. The exploding residential development with sought after Katy school district and Class retail options have created a huge demand from business owners living West of Houston.
What about the energy bust from a few years ago and the resulting slump in the energy corridor? Although there is still office space oversupply in that far west market, the industrial warehouse market has continued mostly unaffected for the past five or six years. Also, the oil and gas market is strong as of today. And while the industry is more cautious with spending, small operations still need a facility to service the big companies.
So build it…right? Not so fast. Building a facility, even one smaller in footprint, takes time. An owner generally needs 12 months to get a new building up and ready to occupy. Additionally, land prices have gone through the roof with new homes, retail, apartments and medical development. The result is that a new 20,000 SF warehouse with about 20% office finish on approximately 2-3 acres will cost around $90 - $100 PSF to build.
Regardless of your industrial needs, if you are looking for a new space or want to sell or lease an existing location, give us a call. We have been in the Houston Industrial brokerage business for more than 26 years.
Looking for Warehouse or Office space in Houston?
Centermark Commercial Real Estate specializes in Industrial and Office in the Greater Houston area. CCRE is the exclusive affiliate broker for WarehouseFinder.NET in Houston, TX.