Medical Office Space for Sale or Lease - Kingwood, TX
Centermark Commercial Real Estate, Warehousefinder.net's Houston affiliate broker, has just listed 19701 Kingwood Drive in Kingwood, Texas. Located across from the recently expanded HCA Hospital, this property offers two existing freestanding office buildings for lease or sale. Each building is 4,800 SF and can be divided to 1,600 SF for lease.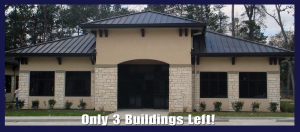 The property owner also has additional adjacent land which can accommodate up to a 20,000 SF office building for sale or lease.