25.62 Acres for Sale- Pearland Parkway, Pearland Texas
Last Updated Aug. 19, 2019
See Our List of Metro Home Pages and Select/View Yours
No longer available.
25.62 Acres are for sale in Pearland, Texas - located off of Pearland Parkway and Province Drive.
The acreage is divisible into the following three tracts:
Tract 1: 13.35 Acres (Commercial)
Tract 2: 5.12 Acres (High density townhome and patio homes)
Tract 3: 8.65 Acres (High density townhome and patio homes)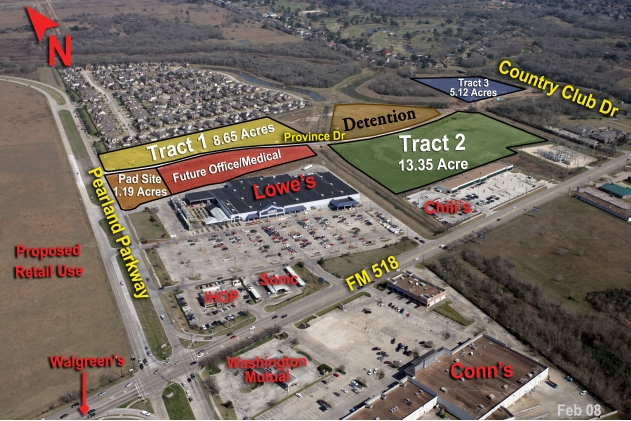 Property Description:
Mixed Use Land
Zoned High Density Residential/Office/Professional/Retail Possible with Amendment to

PUD

Adjacent to Lowe's Home Improvement

&

Proposed Office Development, Chili's

&

IHOP

16,000

CPD

Traffic Count on Pearland Pkwy
Looking for Warehouse, Office or other space in Houston or elsewhere? Needing to renew your lease?
Contact the WarehouseFinder.NET Broker Affiliate Network below.
Centermark Commercial Real Estate specializes in Industrial and Office in the Greater Houston area. CCRE is the exclusive affiliate broker for WarehouseFinder.NET in Houston, TX.