Dock High Loading - Picture with Definition
Last Updated April 8, 2023
See Our List of Metro Home Pages and Select/View Yours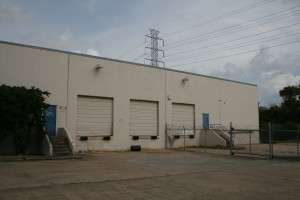 A dock-high loading dock provides a highly efficient method to move cargo between a semi-trailer and your warehouse. The efficiency comes primarily from matching the height of the semi-trailer shipping surface to the height of the warehouse floor.

How High Is a Loading Dock?

The dock height of such a dock is typically 4 feet - give or take a few inches. The intent of using a dock-high loading dock is to match the height of the floor of your warehouse with the floor of the shipping surface of a semi-trailer to facilitate this movement of cargo. These heights will normally only be close to 4 feet, which drives the use of a dock leveler to accommodate variation in the height of that trailer shipping surface relative to the dock height of your warehouse, which matches the height of your warehouse floor surface.

Many different types of trucks and containers can use dock-high loading docks.

A standard 53' trailer has a bed height of 48"

An overseas shipping container has a height of 52"

Straight Trucks/Box Trucks have shipping bed heights between 40" and 50"
We often hear questions like "what is the standard height of a loading dock" and "what is dock height for loading a truck." As you can see above, these are interesting questions mostly answered by this section. What you don't see is that these heights are significantly variable depending upon many conditions. Tire inflation pressures can cause significant variations (and, if fact, can be used in many situations to adjust the height of the load - like, say, if a driver has miscalculated the load height by a small amount and can't get by an obstacle, or even to better match the height of the loading dock to the height of the trailer surface). The weight of the load can also cause significant variation - initially, and while a truck is being unloaded.
What is a Dock Shroud?

If your warehouse requires even better protection from the elements, dock shrouds can be added to protect from external factors like rain up to a complete environmental seal - commonly used in refrigeration scenarios.

What Are Half Docks?

There are also 1/2 (half) dock facilities, as opposed to dock-high loading docks. These shorter loading docks - usually about 2 feet above ground level - are used to accommodate smaller trucks often used for short-haul and more local shipping tasks.
What Else Might You Search to Bring You Here?
There are many other questions and terms that we hope might bring you here. These include:
height of a loading dock
standard dock height
loading dock standard height
loading dock height standard
standard height of a loading dock
what is standard dock height
what is a dock-high truck
dock-high trailer
loading dock meaning
dock-level loading
high dock
dock high
dock-high doors
dock-high door
dock height
loading dock height
truck dock height
warehouse dock height
There are many other relevant terms, but these are a good start.

Summary

Click this link to get ideas for how to convert some of your loading capacity from grade-level to dock-high capacity.

Click this link to see our discussion of Dock Wells.

Click this link to read about more important criteria for selecting warehouses for rent, lease, or sale.

Are you looking for Warehouse, Office, or other space in Houston or elsewhere? Do you need to renew your lease?

Contact Warehouse Finder using our Get Started link above, call us at the phone number on this page in the upper right, or chat with us using our chat widget on the page in the lower right.