Dock High Loading - Picture with Definition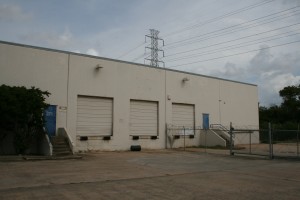 Dock high - Where the height of the slab at the bottom of the overhead door is approximately 4 feet above the ground level. This is a standard height for most shipping containers, and provides convenient access to load and unload these shipping containers to/from the warehouse space. The height of these shipping containers on trailers can vary slightly from trailer to trailer, and this difference is usually accomodated by the use of a dock plate or dock leveler.
If you have a grade level building and need a dock, read this.
See our discussion of Dock Wells here.
Go here to read about more important criteria for selecting warehouses for rent, lease or sale.

Are you looking for Warehouse, Office or other space in Houston or elsewhere? Do you need to renew your lease?
Contact Warehouse Finder using our Get Started link above, call us at the phone number on this page in the upper right, or chat with us using our chat widget on the page in the lower right.