Warehouse Cranes: Types, Operation, and Building Considerations
Last Updated May 22, 2023
See Our List of Metro Home Pages and Select/View Yours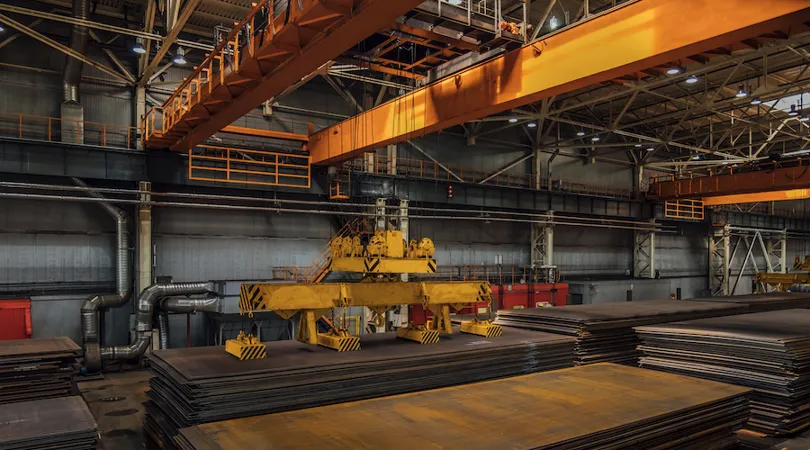 Cranes are integral parts of many warehouses, especially those involved in heavy manufacturing, storage, or shipping. They facilitate the movement of large, heavy items throughout large clear areas of your warehouse, making operations more efficient. But not all cranes are created equal, and the type of crane that would be most beneficial to your operations largely depends on your specific needs and the building specifications.
Outline
Different Types of Cranes
In warehouses, you will commonly encounter three main types of cranes: bridge cranes, jib cranes, and gantry cranes. Each has its unique advantages and is best suited for different kinds of tasks and spaces.
Bridge Cranes
Bridge cranes, also known as overhead cranes, span the width of the warehouse and are mounted on rails, enabling three-dimensional movement throughout large clear areas of your warehouse. They can lift, move, and place heavy items quickly and accurately. Bridge cranes are highly flexible, with lift capabilities generally ranging from 2 tons to over 200 tons.
Jib Cranes
Jib cranes are typically smaller and offer flexibility in operations that require less lifting capacity. They consist of a horizontal member (known as a jib or boom) that supports a moveable hoist. The jib can be fixed to a wall or to a floor-mounted pillar.
Gantry Cranes
Gantry cranes are similar to bridge cranes, but instead of being mounted on a suspended runway, they are supported by a frame that rests on the floor. This allows them to be more mobile and flexible than bridge cranes, but they generally have a lower lifting capacity.
Building Requirements for a Crane
The building requirements for a crane depend on the type of crane and its intended use. These requirements can include large or oversized overhead or sliding doors at grade level, a reinforced foundation, reinforced walls and support posts, heavy power supply, wide column spacing, and a high clear height.
Other Terms
There are a few other terms that you might encounter when researching warehouse cranes. These include terms like "Drive-in Warehouse," "Drive-through Warehouse," "Manufacturing Warehouse," "Heavy Equipment Warehouse," and "Equipment Repair Warehouse."
Summary
Whether you need a crane-equipped warehouse for rent, lease, or purchase, Warehouse Finder can provide you with the right solutions tailored to your specific needs. If you need more information on warehouse cranes or help in finding the perfect warehouse, don't hesitate to contact us.