Dock high distribution warehouse For Lease - East Side Houston
Last Updated Feb. 17, 2022
See Our List of Metro Home Pages and Select/View Yours
Centermark Commercial Real Estate (Centermark CRE) is looking to co-develop a distribution warehouse for lease property in near East Houston. The property will have the following attributes:
Front load

ESFR

fire sprinklered
Consist of two (2) dock high, tilt wall warehouse buildings
28' clear heights
Ample trailer parking/staging area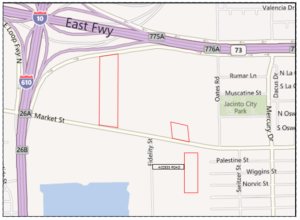 The 12.4 acre site is zoned Heavy Industrial in the city limits of Jacinto City and has frontage on both I-10 East and Market Street. This location provides excellent access to I-10 East, Loop 610 East and Hwy 90 East.
Located in the city of Jacinto City, tenants can avoid the occupancy restrictions which are often problematic in the city of Houston with distribution warehouse for lease. Rental rates should be in the $.42 PSF/month NNN range with estimated operating expenses around $1.20 PSF/year. While leasing is the primary goal of this project, a potential sale of one or both buildings is a possibility. It is too early for exact pricing estimates, however a shell sale price of $90 PSF or so is not unreasonable.
This near Eastside Houston location is in close proximity to the Port of Houston and its break bulk terminal located at the Clinton Gate. The pending flow of port traffic from the Panana Canal widening should drive further warehouse leasing demand. ESFR served warehousing added the ability to shrink tenant's area requirements by stacking pallets higher. Additionally, the ESFR amenity combined with Jacinto City's lenient occupancy standards provide a business friendly environment for companies needing to warehouse, ship and manufacture flammable products.
Looking for Warehouse or Office space in Houston?
Centermark Commercial Real Estate specializes in Industrial and Office in the Greater Houston area. CCRE is the exclusive affiliate broker for WarehouseFinder.NET in Houston, TX.