Bridge Crane - Picture with Definition
Last Updated Jan. 29, 2022
See Our List of Metro Home Pages and Select/View Yours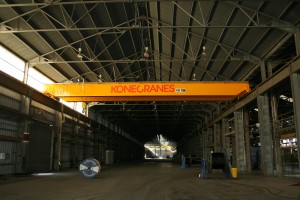 A Bridge Crane is a lifting system comprising two sets of rails built near a warehouse's ceiling and a bridge or steel truss spanning these rails. Cranes are used to lift, move, and place heavy items quickly and accurately. A bridge crane is one of many types of cranes. Bridge cranes lift/place heavier objects and move those objects longer distances through a fixed volume in a building or around a property. These cranes are highly flexible, with lift capabilities generally ranging from 2 tons to over 200 tons. Equipping a property or facility with a crane bridge is quite expensive but makes moving heavy items much more efficient than most, if not all, alternatives.
How Does a Bridge Crane Work?
The pivotal portion of a bridge crane is the bridge. A bridge is the yellow beam assembly across the top of the above-pictured building section. The hook is connected to a hoist assembly, then attached to a transport. This lift assembly is coupled with the bridge to allow the crane operator to move the lift from one side across the building section to the other side. The mounting and makeup of the hoist and hook determine the lift range of the bridge - generally from the floor to the maximum hook height. So far, we've defined the 2-dimensional movement of the crane across the bridge and from the floor to the hook height - what I would call Z-axis and X-axis movements, respectively.
The next part - which makes bridge cranes more interesting - is that the bridge is mounted to tracks at each end of the bridge. This installer will build the tracks atop a support structure that can be a part of a wall or integrated with support posts for the building. It is possible to install these tracks into/onto the floor, but this can interfere with valuable floor space and crane movement volume since this support structure will have to be a part of what would have been the movement volume of the hook. You will wish to maximize the available movement volume or the movement of the X-Z plane through the Y-axis space we just defined.
Once you have a crane installed, you will move heavy items into this crane movement volume - often by backing a flatbed trailer into the space enough to attach the crane to the heavy object. The object is then moved around the space for processing until removing it again - likely by reversing the process.
Note: The crane operator will use a coordinate system (X-Y-Z) to locate and direct the hook. The one used in your situation may not match the one used here.

Bridge Crane Decision Factors
Bridge cranes are an expensive alternative, so you should make sure you need one - especially if you have to build or retrofit a facility. That said, if you need to move heavy items throughout a large area or volume of your facility, this is likely your best alternative. If your application is not as demanding, you may be able to consider fixed or manually moveable cranes. Forklifts provide good lift capability and a higher degree of flexibility. If you need a bridge crane, we suggest you commit and make sure you get what you need.
The type of crane you require depends upon how much you need to lift and the area within which you need to lift it. A Jib Crane lifts and places within a radial area. The crane is attached to a wall support and is fixed in terms of service area. A Gantry Crane is a smaller version of a bridge crane. This type can be fixed or moveable, and consists of a bridge and supports that reach the floor.
For landlords, divisibility of an area served by a bridge crane can be an issue. Read about the issue of warehouse divisibility in the linked article.

Building Requirements for a Bridge Crane
Listed are some requirements for a building to be equipped with a bridge crane:
Large or oversized overhead or sliding doors at grade level to get large items into the facility and crane volume - probably by truck
Reinforced foundation to handle to heavy loads and the weight of the crane
Starting with reinforced walls and support posts made to support the crane(s) is preferred
Cranes, along with the items to be handled by cranes, commonly require some level of heavy power
Wide column spacing to maximize X-axis hook movement

High clear height to maximize Z-axis/hook height/movement
While it is possible to retrofit a bridge crane into an existing facility, the above items should tell you that this can be quite involved and expensive. You would preferably be looking for a facility specified as crane-ready, and be wary since that can mean different things to different people.

Other Terms
Searching for other terms like these might also indicate an interest in this article on bridge cranes:
Drive-in Warehouse/Drive-through Warehouse
Manufacturing Warehouse
Heavy Equipment Warehouse
Equipment Repair Warehouse
Maintenance Warehouse
Summary
If you need more information on cranes, or you wish the lease, rent, or buy a crane-equipped warehouse, don't hesitate to contact us.
Contact Warehouse Finder using our Get Started link above, call us at the phone number on this page in the upper right, or chat with us using our chat widget on the page in the lower right.
Read about more important criteria for selecting warehouses in this linked article.